Longing for Life: Catholics, Infertility & IVF
October 7 @ 1:00 pm

-

4:30 pm

Free
TICKETS:  FREE EVENT — But You Must Register to Reserve Your Space. Registration Information Below
Conference Overview
When a couple has unimpeded marital relations for a year without conceiving a child, they are often considered to be facing issues of infertility. The phenomenon is not uncommon, with one in six couples reportedly infertile. As spouses become more aware of their situation and face new stresses and uncertainties about their future, they often begin asking a range of important questions:
— How should a Catholic couple respond to infertility?
— What is the spiritual significance of infertility?
— Why is IVF wrong?
Please join the SW Florida Guild of the Catholic Medical Association for our special conference addressing these questions as we seek to offer guidance, illumination and support regarding a difficult area of married life.
Presentation #1: What is the Spiritual Significance of Infertility?
When a married couple discovers they cannot have a baby, it comes as a shock. In this conference, Father Tad will look at our natural yearning for offspring and discuss our sense of entitlement toward children. Molly Hickey of Elizabeth Ministry, who faced infertility in the early years of her marriage, will share some of her personal experiences and struggles. Father Tad will discuss the challenges of infertility in the broader context of the Lord's graces, prompting us to discover new ways of giving life to others and unexpected paths of spiritual fruitfulness within marriage.
Presentation #2: Why is In Vitro Fertilization Wrong?
When facing the inability to conceive, a married couple will often be encouraged by family, friends and the mass media to turn to in vitro fertilization (IVF) as a solution. Father Tad, with the assistance of Molly Hickey, will look closely at some of the key reasons IVF is morally objectionable, and explain the important distinction between assisting vs. replacing the marital act with an entirely different act like IVF. Potential alternative therapies to help resolve underlying causes of infertility, and related approaches that are ethically congruent with marital intimacy, will also be discussed.
About the Speakers
Rev. Tadeusz Pacholczyk, Ph.D. earned his doctorate in neuroscience from Yale and did post-doctoral work at Harvard. He is a priest of the Diocese of Fall River, MA, and serves as Senior Ethicist at The National Catholic Bioethics Center in Philadelphia. Full Bio.
Molly Hickey is a wife and mother of 4, who resides in Rochester, NY. She is an active member of St. Joseph's Catholic Church in Penfield, NY where she teaches faith formation and serves on the parish council. Molly currently facilitates her local chapter of Elizabeth Ministry, a support group for women and families who have experienced the loss of a child. She holds a master's degree in Early Childhood Education and is a fourth grade teacher.
F. Michael Gloth, III, MD is the conference Master of Ceremonies. He is an Associate Professor of Medicine at Johns Hopkins University and a Clinical Professor at Florida State University. Dr. Gloth is President and CEO of AMDG Naples 100 Senior Concierge and Consulting and member of the Catholic Medical Association.
This event is being professionally video-recorded courtesy of the
WHEN
Saturday, October 7, 2023 from 1-4:30 PM.  Vigil Mass available at 5 PM at the Ave Maria Catholic Church
WHERE
The O'Bryan Performance Hall in the Thomas and Selby Prince Building at Ave Maria University | 5050 Ave Maria Blvd., Ave Maria, FL 34142
Ave Maria University Campus
Thomas and Selby Prince Auditorium
Foyer of the O'Bryan Performance Hall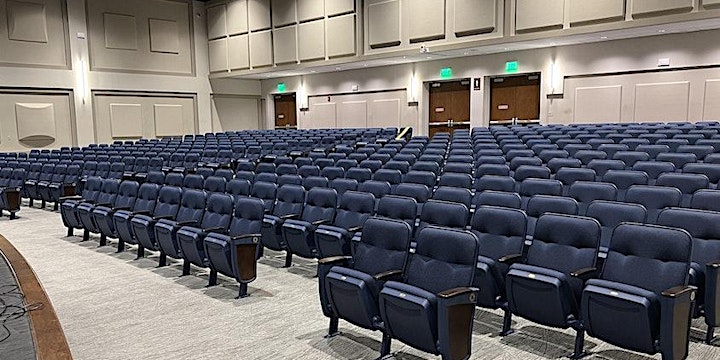 O'Bryan Performance Hall
The Mother Teresa Museum is located in the Prince Building
Event Schedule
1:00-1:05 PM – Welcome and Introduction: Michael Gloth, MD
1:05-1:10 PM – Opening Prayer: Most Rev. Frank J. Dewane, Bishop of the Diocese of Venice
1:10-1:15 PM – Speaker Introductions: Michael Gloth, MD
1:15- 2:15 PM – 1st Presentation: What is the Spiritual Significance of Infertility? Rev. Tad Pacholczyk, PhD
2:15-2:45 PM – Q&A, Moderated by Michael Gloth, MD
2:45-3:00 PM – Break with Refreshments in Foyer
3:00-3:05 PM – Reconvene in Auditorium
3:05-4:05 PM – 2nd Presentation: Why is In Vitro Fertilization Wrong? Rev. Tad Pacholczyk, PhD
4:05-4:30 PM – Q&A, Moderated by Michael Gloth, MD
WHO SHOULD ATTEND:  Anyone interested in the Catholic perspective on infertility & IVF
TICKETS:  FREE EVENT — But you must register to reserve your space:
Registration
Video/Audio Recording Disclaimer — By registering for this conference, I understand the event is being professionally recorded, and that audience and attendees' voice and image may also be recorded during the presentations and the question and answer sessions. My registration includes permission to include my image or voice, should it be recorded, as part of any subsequently released media applications, DVD's, or online educational presentations.
Please Support Our Work by Making a Donation
Attendance is free, but we invite you to donate by making a good will offering. We are a 501(c)3 organization and all donations are tax deductible.
---